The In House Laboratory
at Allegheny Veterinary Services
Hematology, Urinalysis, Chronic & Parasitic Disease Diagnosis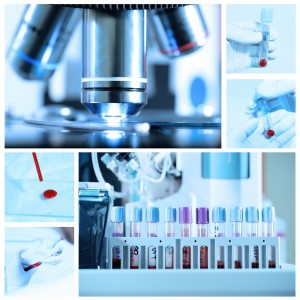 Allegheny Veterinary Services' In-House Laboratory features advanced clinical equipment that enables our staff members to rapidly diagnose a wide range of acute, chronic, and parasitic infections, diseases, and conditions so that treatment can begin right away. This immediate access helps ensure that the optimal outcome can be achieved for each patient. Our on-site lab is fully equipped to process complete blood counts, serum chemistry analysis, and many additional testing procedures for dogs, cats, and most of our exotic animal patients.
Our laboratory serves the needs of companion animal and livestock owners, the poultry and beef industry, as well as other veterinarians and public health workers. We are able to identify and monitor disease outbreaks and submit reportable diseases, such as anthrax, brucellosis, leptospirosis, influenza, rabies, etc., in the interest of public health.
CBC, Serum Chemistry, Thyroid, Fecal, Heartworm, Fungal & Disease Testing
We routinely complete the following types of tests at our location, and we have the capability to run several additional types of testing.
Complete Blood Count (CBC)
Serum Chemistry Profiles
Thyroid Screening
Urinalysis w/ Sediment Exam
Urine Culture
Fecal Centrifugation Exams
Blood Clotting Profile
Heartworm Antigen Test
Cytology
Feline Infectious Disease Panel (FIV/FeLV)
Canine Infectious Disease Panel (HW, Lyme, Anaplasmosis, Ehrlichia)
Fungal Culture
Referral Laboratory Testing: Access to Private, State, and University Labs
Our partnerships with other university, private, state, and federal laboratories ensure that we are able to identify all conditions known to affect the canine and feline populations. When specialized testing is indicated, we carefully consider each illness on an individual basis and make a referral to submit the specimen to the appropriate laboratory. This helps ensure that the most accurate and reliable testing is completed according to the capabilities of each facility.