Genetic Testing and
Hip Screening for Dogs
Serving Elkins and Surrounding Areas
in West Virginia
"PennHIP and OFA-Certified Veterinarian"
Canine Hip Dysplasia (CHD) is the most common inherited joint condition affecting large dogs. For nearly a century, dedicated, responsible breeders and the Orthopedic Foundation for Animals have worked hard to identify and eliminate this painful and degenerative condition by removing affected dogs from the breeding program. Approximately 25% of CHD carriers were unable to be identified with standard physical examinations and x-rays. Hip Dysplasia commonly affects breeds such as:
Golden Retrievers
Labradors
German Shepherds
Rottweilers
Akitas
Accurate Scientific Screening for Canine Hip Dysplasia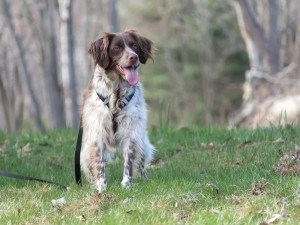 In 1983, the PennHIP evaluation was created by orthopedic surgeon, Dr. Gail Smith, at the University of Pennsylvania School of Veterinary Medicine. This accurate method is now the gold standard used to predict the onset of canine hip dysplasia, as well as osteoarthritis. The test involves a series of x-rays used to measure laxity of the hip joints according to the distraction index (DI). With 0.3 indicating a nice, tight hip and with scores nearer to 0.7 in conjunction with looser hips exhibiting a greater risk. The test follows strict scientific protocol and has been peer-reviewed and well-researched. All measurements are based on precision calculations and objective observations. All veterinarians participating in the PennHIP program must be trained and certified to follow protocol and ensure data accuracy.
How is the PennHIP Evaluation Performed?
The patient must be sedated for the examination, which consists of three carefully collected x-ray views designed to measure the laxity of the hop joint. PennHIP evaluations may be performed on patients who are at least 16 weeks old. Restrictions on performing the evaluation prohibit females who have recently whelped, been in heat, or who are currently lactating. If your patient is a breeding female, please contact us to determine when the optimal time for testing will be. Our staff members will provide details and eligibility factors. Allegheny Veterinary Services is the only practice within a 90-mile radius whose staff are certified to provide the PennHIP evaluation.
OFA Genetic Testing for Dysplasia, Heart and Orthopedic Diseases
Allegheny Veterinary Services provides Canine Orthopedic Foundation for Animals (OFA) Certification for our patients. This series of genetic tests are available for breeders and should be performed on stock before breeding commences. The purpose of the testing is to reduce the incidence of heritable diseases throughout the canine population. Genetic testing enables you to make informed decisions as a responsible dog breeder. Specific tests are recommended for each breed based on the incidence of specific health conditions that each is known to affect the breed. Learn more about the testing available by breed at OFA's website.
If you would like to schedule an OFA evaluation for hip dysplasia, your dog must be at least two years of age. Please note that breeding females are ineligible to be tested if within 30 days of estrus ("heat"), which typically occurs twice per year for many breeds. All patients must be sedated during the x-rays necessary to predict orthopedic disease.