Allegheny Veterinary Services Offers Noninvasive Ultrasound
Diagnostic and Imaging Digital Ultrasound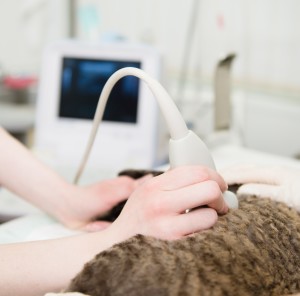 At Allegheny Veterinary Services, our staff members utilize state-of-the-art digital ultrasound equipment on a daily basis. This tool has become invaluable as a comfortable, noninvasive means of providing immediate imaging services to diagnose, locate, and evaluate many types of issues affecting soft tissues throughout the body. Ultrasound is an invaluable tool for diagnosing diseases and chronic health-related conditions.
Abdominal Ultrasounds
Echocardiograms
Urinary System Ultrasounds
Evaluation of Internal Organs: Kidney, Bladder, Spleen, Gallbladder, Uterus, Liver, Heart, Intestines, Stomach, Pancreas, Adrenals, Colon, Lymph Nodes, Testicles, etc.
Imaging of Tumors, Swellings, and Soft Tissues
Pre-surgical Visualization of Large Blood Vessels, Pockets of Fluid in Tumors, etc.
Measurement of Internal Organ Size and Tumors
Ultrasound for Vomiting, Diarrhea, Urination Issues and Weight Loss
The ultrasound procedure utilizes sound waves to enable our staff members to visualize the organs and soft tissue structures within the body with a remarkable degree of accuracy. We are able to determine the shape, size, and even the texture of structures hidden within the body without opening up the body cavity. Some reasons why a patient may be referred for ultrasound include: unexplained vomiting, ongoing diarrhea, urinary issues, unexplainable weight loss, abnormal blood work, and the presence of fluid within the abdomen or chest.
Immediate Ultrasound Evaluation and Telemedicine Referral
Our high-quality ultrasound services are performed in-house and can be evaluated immediately or emailed to any of our specialists for consultation, telemedicine, or as necessary for referrals. Ultrasound results will be discussed with you during a consultation for non-urgent cases. Urgent and emergency cases will be evaluated by the veterinarian or surgeon responsible for making decisions based on the patient's best interest. If foreign bodies, stones, cancer, or other invasives are found during another procedure during which the body is already opened, these may be removed during the procedure. Each case is unique. A follow-up ultrasound may be necessary to ensure that all foreign materials have been removed.