Allegheny Veterinary Services –
Comprehensive Care for Companion Animals
Preventive and Routine Care for Cats, Dogs, and Small Animals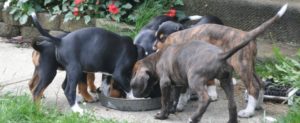 At Allegheny Veterinary Services, we offer a wide variety of services to care for your pet. Our veterinarians are amongst the very best in the state and are committed to providing comprehensive preventive care necessary to help ensure your pet's well-being as well as emergency care for established patients. We are passionate about our work and experienced in the field of veterinary medicine. Our doctors treat companion animals such as cats and dogs, as well as, exotic animals including birds, backyard chickens, and small pocket pets (hamsters, gerbils, mice, etc.).
We Continually Expand Our Hospital Services to Better Serve Your Pet!
Our animal hospital was designed to better serve our patients, as well as provide a more welcoming and stress-free office environment for our clients. If you are a new client visiting for the first time, please browse our website to become familiar with the services that we offer, learn more about our staff and facility, and locate links to educational articles from reputable sources.
Full Spectrum of High-Quality Veterinary Services, Compassionate Practices, and Advanced Diagnostics
If you have any questions, or would like more information regarding pet care, please contact us today at: (304) 636-7886. Information about some of our most requested services, certifications, and hospital practices are included below for your convenience.
Backyard Poultry, Exotics, Birds and Pocket Pets: Rabbits, chickens, ferrets, iguanas, and more!
Advanced Diagnostic Services:: Visualization of internal organs, tumors, and soft tissues
Digital X-Ray: High-definition diagnostics and instant images
Regenerative Laser Therapy: Advanced therapeutic technology
Feline-Friendly Practice: Silence and security for anxious cats
Hospice Care: Symptom management and comfort care at the end of life
Humane Euthanasia: Compassionate assistance and support throughout all aspects of your pet's final journey
Laser Surgery: Reduction of bleeding, swelling, inflammation, and pain during routine surgical procedures and tumor removal; Decreases chance of cancer spread
Low Stress & Fear Free Visits: The entire design and functional protocol of Allegheny Veterinary Services is designed to minimize discomfort
Pain Management: Effective short and long-term pain control
Veterinary Orthopedics & Sports Medicine: X-ray and professional genetic testing for orthopedic diseases
Preventative Care: Immunizations, annual examinations, and more
Preventative Dentistry & Oral Surgery: Extractions, tumor removal, dental exams, scaling, polishing, and surgical procedures
Anesthesia & Surgery: Routine spay and neuter, tumor removal, caesarian section, cranial cruciate repair, fracture management, and complicated emergency surgical procedures with professional general anesthesia (Emergency services are for established patients only.)
Breeding & Reproductive Services: A complete array of assistive and preventive reproductive healthcare for companion animals