Meet the Allegheny Veterinary Services Team
Professional Skilled Animal Routine and Surgical Care
---
Dr. Tracy Walker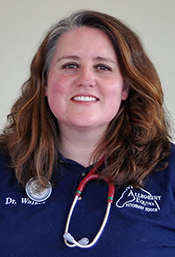 Doctor Tracy Walker grew up just East of Elkins, WV, near the Cheat River. Dr. Walker studied at the University of Georgia College of Veterinary Medicine, with a focus on large animal medicine and surgery. After graduating from veterinary school, Dr. Walker continued her advanced training, clinical studies, and internship at the University of Georgia.
Aside from formal university training and education, Dr. Walker has traveled extensively throughout the country, where she gained significant hands-on veterinary experience. Despite much of her prior experience being related to the equine industry, Dr. Walker has extensive experience treating many types of livestock and companion animals. Following her education and training, Dr. Walker returned to practice veterinary medicine in West Virginia, after realizing that there is, indeed, no place like home.
As a highly active member of several local and state organizations that contribute to the overall welfare of the community, as well as the veterinary profession, Dr. Walker proudly serves on the local Randolph County Park and Recreation Board, the Randolph County 4-H Leaders, and is an active member of the Randolph County Regional Riding Club. Dr. Walker has served as a state board member for the West Virginia Veterinary Medical Association. Dr. Walker is pleased to have become a member of the American Association of Equine Practitioners Professional Conduct and Ethics Committee as of 2012. In her spare time, Dr. Walker enjoys spending time riding any of her eight quarter horses and showing her cutting horse.
---
Dr. Stacy Church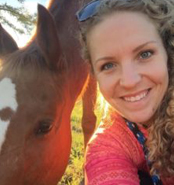 Doctor Stacy Church was born north of Atlanta, GA, where she grew up. Stacey earned her undergraduate degree at Colorado State University, and her veterinary degree at The University of Georgia. While there, she concentrated on mixed animal medicine.
Dr. Church has loved horses her entire life. Prior to becoming a veterinarian, she owned horses and was a competitor in the hunter-jumper circuit. Her experience working with small animals was largely gained while working as a technician at an Atlanta clinic for five years before attending veterinary school. She loves to travel, and has spent time studying surgical procedures in Montana, Colorado, and Florida over the past year.


Dr. Church enjoys spending much of her spare time outdoors skiing, and with her dog, Millie. In addition she loves spending time with her family. She is excited to serve the local community near Elkins.
---
Vickie Crosston, Receptionist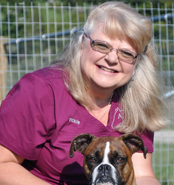 In September of 2015, Vickie Crosston joined our staff. A native of Elkins, she brings many years of experience in the field of healthcare to our team. We, and our clients, welcome her approachable and friendly personality to our office. She is a true asset to our team. Vicki resides locally on a farm with her husband, dog, Bailey, a pony, and a horse. Vickie enjoys the company of her husband and grandchildren during her spare time.
---
Jessica Phillips, Receptionist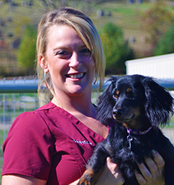 Jessica Phillips joined our practice in June of 2017. She is originally from Elkins, and offers many years of experience in human health. We welcome Jessica as an anchor for our reception staff. Jessica currently resides in Elkins, along with her two dogs, Macie and Mavah.
---
Alayna Collett, Veterinary Assistant

Alayna first began working with us during her high school career experience program. Alayna has lots of experience handling and caring for animals, from bunnies to horses. Alayna has been active in 4-H and was even a state champion in equestrian competition. She is currently studying veterinary technology and equine science at Morehead State University in Kentucky. When she is not studying, you can find her at the barn with her horse, Dodge.
---
Amy Dewitt, Veterinary Assistant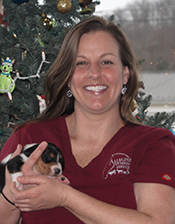 Amy Dewitt was raised in Kentucky, and moved back to Elkins in 2005 to be near her family. Amy worked for five years as part of the treatment team at the Beverly Pike Veterinary Clinic with Dr. Crissman and Dr. Walker and then left to raise her daughter. She rejoined the practice in Spring 2016 at our new location and we are so happy to have her! In her spare time, Amy enjoys spending time with her daughter and gardening. She shares her home with her three cats.
---
Adam Sharp, Veterinary Assistant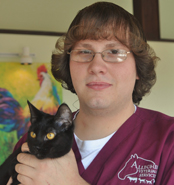 Adam was raised in Randolph County. In 2016, he graduated from AB University with a B.S. in Biology and Environmental Science. He has volunteered his time and worked at the Randolph County Humane Society as an adoption specialist since 2007. Adam plans to pursue a career in veterinary medicine and will be applying to veterinary school in the near future. In his spare time, Adam enjoys spending time with his cat Winifred, as well as with his dogs, Lola and Lucy.